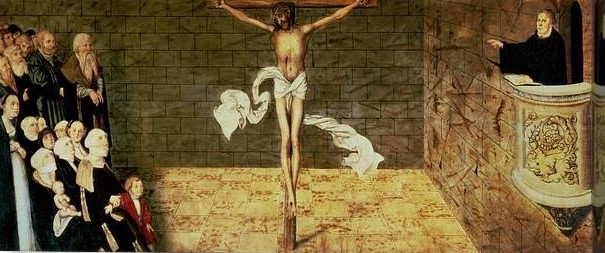 "Thus it is written, that the Christ should suffer and on the third day rise from the dead, and that repentance and forgiveness of sins should be proclaimed in his name to all nations, beginning from Jerusalem. You are witnesses of these things. And behold, I am sending the promise of my Father upon you. But stay in the city until you are clothed with power from on high" (Saint Luke 24:46-49).
Okay, we confess that there aren't many Lutheran churches like ours left. We aren't here to entertain you with bands, dancers, theatrical performances, or flashy computer presentations. We are here to tell you about the love of God the Father for us in Jesus Christ His Son. Saint John's White Creek is a congregation of sinners that acknowledges that, "Chief of sinners though I be, Jesus shed His blood for me." We have been brought together by the Father's love in Jesus to be declared His holy children. Each week we gather in the Divine Service to hear the message that the Father has sent His Son "for us men and for our salvation." We invite you to join us each week to hear more about the Father's love for all people.
History of St. John's White Creek
Saint John's Evangelical Lutheran Church of White Creek was established in 1840. Several immigrant families from Hanover, Germany settled the area, built the original brick church, and established a school for their children. Today, the church serves families of the surrounding rural area and beyond with God's Word and Sacraments. White Creek Lutheran School is the main mission of the church, and the congregation eagerly supports the Christian education of members and newcomers.